Categories:
"**All Prices reflect carton pricing and are exclusive of GST"
TLUXAU Boutique Luxury Box - Carton of 1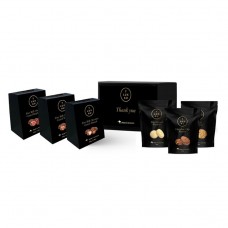 Product Details:
Delicious Biscuits and Chocolates offer the perfect variety for guests or friends to enjoy. The Luxury Boutique Box is a perfect gift beyond a small gesture.
Available in 'Welcome' & 'Thank you' messages.
LUXURY BOUTIQUE BOX - 30.5cm x 9.5cm x 12.3cm
44g Chocolate Chip Biscuits
44g Shortbread Biscuits
44g Muesli Biscuits
30g Chocolate Coated Almonds
30g Chocolate Coated Raspberries
30g Chocolate Coated Sultanas
Product Code: TLUXBLB
Availability: In Stock