Categories:
"**All Prices reflect carton pricing and are exclusive of GST"
TLUXAU Boutique Chocolate Box - Carton of 1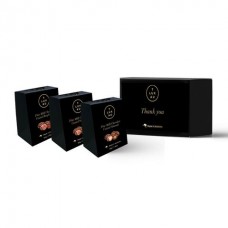 Product Details:
Australian made fine Milk Chocolate Coated Almonds, Raspberries & Sultanas in this Boutique Chocolate Box delight everyone who receives them.
The smart little chocolate boxes inside mean they can enjoy one flavour at a time.
Available in 'Thank you', 'Welcome' & 'Merry Christmas' messages.
BOUTIQUE CHOCOLATE BOX - 19cm x 5cm x 7.8cm
30g Chocolate Coated Almonds
30g Chocolate Coated Raspberries
30g Chocolate Coated Sultanas
Product Code: TLUXBCB
Availability: In Stock